2000
Nomad Stunts is an international action company, established in 2000 by the Honored Artist of the Republic of Kazakhstan, Stunt coordinator, Stunt performer, Zhaidarbek Kunguzhinov.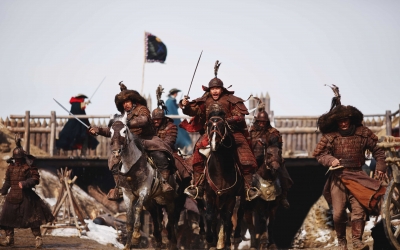 In 2007, the Mongol, directed by Sergei Bodrov, was released, in which Zhaidarbek Kunguzhinov acted as stunt coordinator, stunt performer and stunt double of the leading characters. Action scenes of the film received rave reviews from the film industry professionals and starting from that period Kazakhstan stunt team got worldwide acknowledgement.
Since 2009, Nomad Stunts have become regular participants of large-scale nationwide and Hollywood filming industry. The group performed stunts for such films as Mulan, Tomiris, The Way Back The Expendables 2, 47 Ronin, Conan the Barbarian, including the popular TV series Warrior, Marco Polo Resurrection Ertugrul. The full Nomad Stunts filmography you can find here.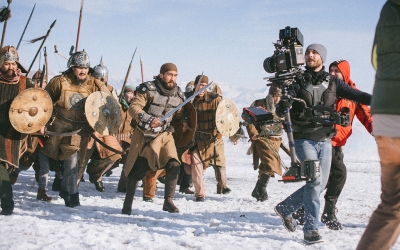 2015
2017
In 2017, Zhaidarbek Kunguzhinov was nominated for the Taurus World Stunt Awards for his work on Viking motion picture.
2018
In 2018, Zhaidarbek Kunguzhinov and the Nomad Stunts were included in the KINES Kazakh Book of Records. Zhaidarbek Kunguzhinov also became the holder of the Kurmet Order, which is the government award.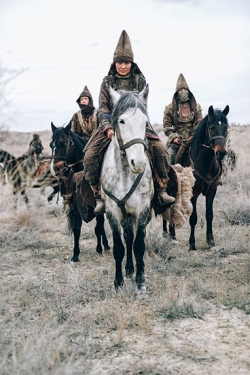 Today
Some of the actors whom Nomad Stunts performers had worked with: Keanu Reeves, Jet Li, Jason Statham, Sylvester Stallone, Arnold Schwarzenegger, Bruce Willis, Colin Farrell, Tadanobu Asano, Bolo Yen, Sean Bean, Stephen Lang, Nathan Jones, Ed Harris, Danny McBride, Christian Slater, Saoirse Ronan, Michelle Yeoh, Liu Yifei, and others.
Nomad Stunts Today
7 countries: Kazakhstan, Kyrgyzstan, Russia, Australia, Canada, Turkey, Azerbaijan
86 stunt performers
40 specially trained stunt horses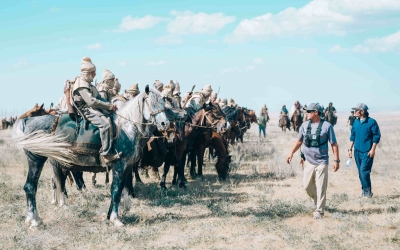 Our Services Nomad Stunts
Choreography and performance of battle scenes (with various types of weapons)
High falls (including fall of a burning man)